YOUNG LEADERS
INSPIRING
DREAM
CHASERS
ACROSS THE WORLD
To emphasize the message of chasing your dreams across the world; letting individuals know that no matter your race, background, or circumstance, that anything Is possible when you put God first and Grind twice as hard for it.
Start Grinding
CUSTOM MADE
FOR THE DREAM
Eddie was a student athlete at Brother Rice High School (Bloomfield Hills, MI). He graduated in 2012 and went on to further his football career at Notre Dame College (South Euclid, OH) on a scholarship. Going into his junior year of college, his mother had been hospitalized for over a year. Her worsening health condition, as well as other personal problems, caused Eddie to cut his football career short and move back home in order to finish school. He used his negative situation as motivation to be a positive influence in his community. GrindGrind began as a funny catch phrase, but quickly evolved into an 'inspirational life brand' athletic online apparel business.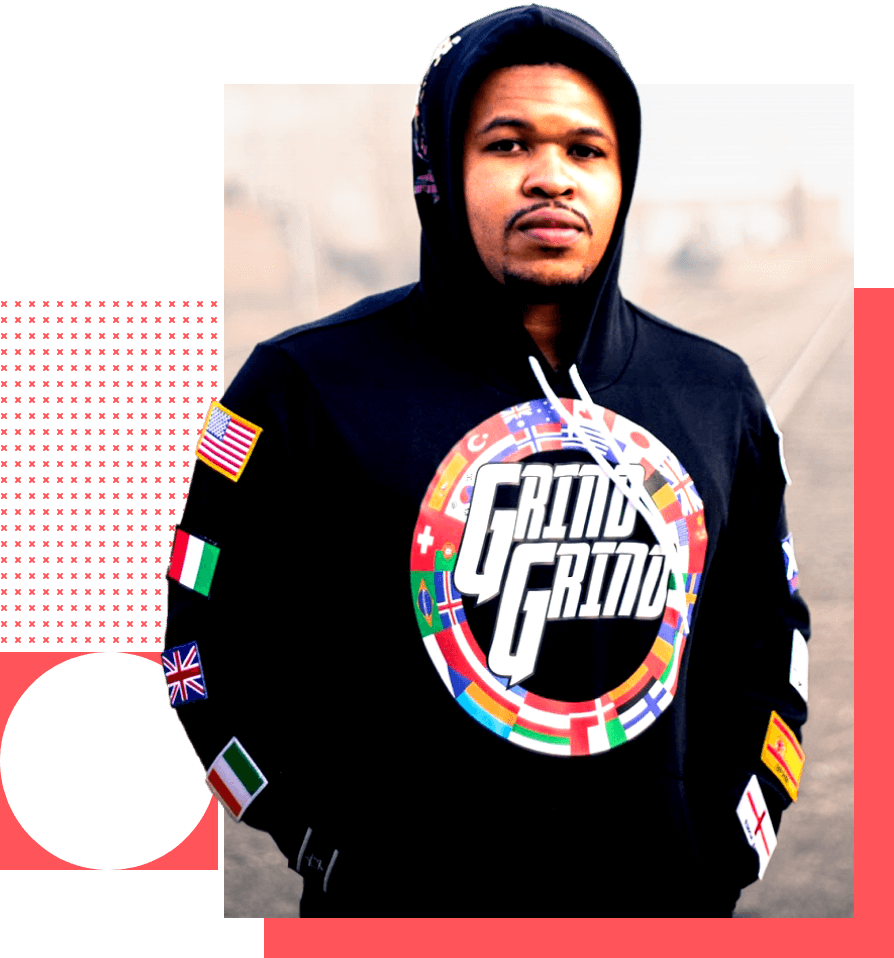 FEATURED TEE
HEART OF A LION
AVAILABLE IN OVER 10 DIFFERENT COLORWAYS. SIZES XS-5X.
#GRINDGRIND
Grind Grind is so much more than just a clothing line. The brand, along with Eddie Kidd, represents high morals, perseverance, professionalism, and so much more. Grind Grind reveals how Eddie Kidd's hard work and persistence has payed off and is continuing to do so. Grind Grind does more than just preach "chase your dreams." When I put on my Grind Grind gear, I am putting on proof that anything is possible!
#DANIEL LAKE,

TENNESSEE
I support GrindGrind because every individual has their own journey, the known formula for success is to: work hard, stay committed, perfect your craft and take advantage of opportunities.However it's about the frame of mind a person has while training and putting in the work that dictates the outcome. So, let the GG logo be a reminder of your focus point and keep you in the mindset of staying committed whenever you look in the mirror.
#CHRIS SIMPSON,

JACKSONVILLE
I support GG mission! Customer service since day 1 has always been great. I love the quality of all the products I have ordered AND there are so many different options from women, men, toddlers to babies. GG brings positivity and creativity to the city of Detroit and that's exactly what we need. Thank you Eddie Kidd.
#pria,

detroit
our happy clients
SIGN-UP TO HEAR ABOUT FUTURE PROMOTIONS AND SPECIAL OFFERS!
Terms & Conditions
Terms and Conditions
By purchasing this item you agree that this size fits.
Return Policy
Size exchange only. No charge within 14 days (customer pays for shipping). All sales are final.